📅 January 19, 2022
My Weekly Review
I have been doing a weekly review for several months, and I have found it to be very worthwhile. My current process has three main parts: Process, Reflect, and Plan. There is a repeating calendar event scheduled for Sundays, and below is its current form.
Process
Get to "Inbox Zero" for Gmail, Outlook, texts, and LinkedIn messages. I don't have an extreme amount of emails to process, so I can handle this in a reasonable amount of time.
View my Facebook feed. I've curated/pruned my feed to the point where it takes me no longer than a few minutes to scroll to the end and I see a "Something went wrong". No, Facebook, everything is very much fine, sorry I broke your algorithm.
Archive cards in my Done lists in Trello.
Remove any files on my Desktop.
Clean up my desk.
Process any physical items (snail mail, forms, etc.) I have collected over the past week.
Reflect
Record my weekly metrics. I created a spreadsheet where I track habits I want to build. I started this about halfway through 2021 and added meditation and step tracking towards the end of the year. My current targets are:

Content creation - 1hr
Learning - 1hr (lately this has been C# courses on Pluralsight)
Meditate - at least 4 days during the week for 13 minutes
5,000 steps - at least 4 days during the week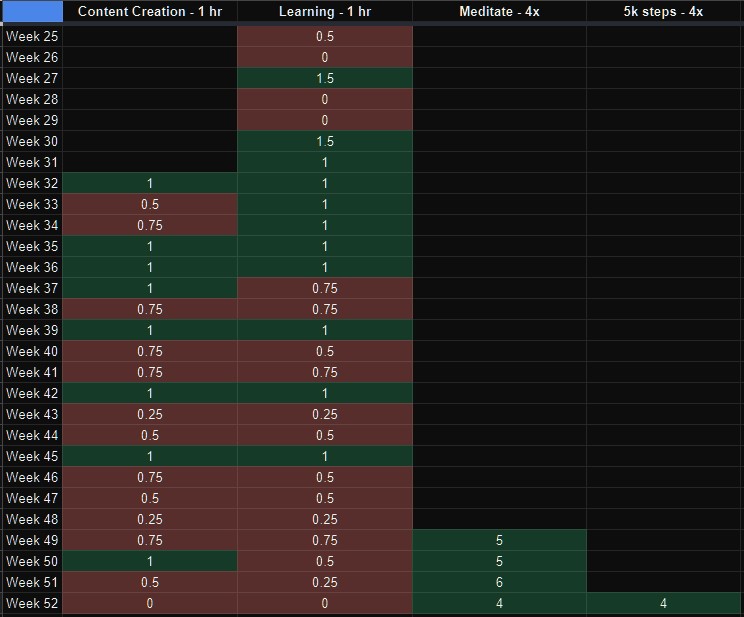 Plan
Review the week ahead in my calendars.
Clarify cards on my Trello boards.
Block my calendar for tasks I want to complete during the week.
Doing this weekly review has provided a repeatable and manageable way for me to stay on top of my responsibilities, habits, and goals. It takes about 15-30 minutes, which I found to be worth the effort.